All CSR activities undertaken by CUMI are rooted in the principle, "towards prosperity in harmony with people and planet". We believe that social responsibility is not just a corporate obligation that has to be carried out, rather an opportunity to make a difference. All our CSR programmes are aimed at Inclusive growth and sustainable development of the community.
Each initiatives we undertake has the support of well-organized and scientific background study. Need Assessment Study of the targeted community is carried out based on which we formulate appropriate community intervention programs. Apart from the analysis of collected quantitative data, a qualitative analysis has also been done which included focus group discussions, interactions with key persons in the community and observational visits.
Our community development projects are based on the principle "of the people, by the people and for the people". The projects are implemented and supervised by a steering committee consisting of the representatives from the community as well.
The areas of CSR interventions are,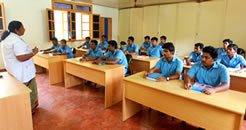 Skill Development
Education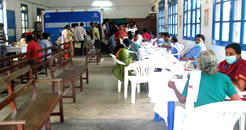 Health
Women Empowerment
Environmental Sustainability
The two platforms for community interventions are,
CUMI Centre for Skill Development (CCSD)
The CUMI Centre for Skill Development (CCSD) is a unique initiative we launched in 2015 for enhancing employability of the underprivileged youth through quality technical education and skill development, and thereby ensuring availability of customized skills to meet the future manpower requirement of businesses. CCSD is positioned with the goal of providing free education and skill-training to deserving and capable students. The objectives include uplifting the economically weak students by enhancing their employability; Build people capability through a customized training model; and to address skilled manpower shortage. CCSD offers vocational training courses to selected students from local community. The program is designed with a perfect balance of theory and practical to ensure maximum learning and retention of the concepts. The renewed curriculum includes basic, practical and on the job training spreading across two years.
ASK Centre (Attitude, Skill & Knowledge Development Centre)
ASK Centre is a multiple platform set up during 2015 by CUMI to support all demographic segments of the local community as part of our CSR initiative to address the community needs. ASK Centre is conducting various programmes for identified needs of children, youth, women & elderly. Various programs are being organized at the Centre to serve the needs of these segments including community teaching, extracurricular training, skill training, elderly care, awareness on socially relevant areas and career guidance.